Kyrgyzstan is the land of mountains ideal for multiday treks. But how should you pack for your adventure?
Going to Kyrgyzstan requires a bit of planning, especially when it comes to packing for one or several treks. You want to make sure to have the lightest bag possible, but not to forget anything essential.
Here's our advice to help you plan your trekking trip to Kyrgyzstan.
Clothes
To go on a trek, you have to pack your bag correctly so as to take enough clothes but not make your backpack too heavy, which will definitely slow you down. Here's a complete list of things to take with you:  
·       2 or 3 short-sleeved t-shirts: prefer light and antiperspirant t-shirts. Polyester t-shirts are ideal, as they dry quickly, allow your skin to breathe and don't weigh too much.
·       1 or 2 tank tops: to put under a sweater or a long sleeve t-shirt when it is cold.
·       2 long sleeve t-shirts: for when the weather gets colder.
·       Convertible pants: these are great for trekking, since you can use them as shorts or pants depending on the weather.
·       1 or 2 leggings: comfortable, they keep you warm under your pants; can be used to sleep, or you can just wear them when you dry off your pants.
·       1 or 2 sweater (s) or fleece jacket (s): essential to keep warm in all weather conditions
·       1 Softshell jacket: the kind of windproof jacket is light, flexible and breathable which will be very useful when it is not very warm outside.
·       2 or 3 pairs of hiking socks: It's always important to have clean and dry sock in your bag in case you have to cross a river or get your feet wet. Hiking socks are generally padded in strategic places to protect your feet.
·       2 pairs of sports socks: they can be used when your hiking socks are wet. You can also wear them at night when it's very cold.
·       1 pair of light gloves: ideal for the morning or the evening when the coolness settles in altitude.
·       1 K-Way or Gore-tex style raincoat: to keep you dry in rainy weather.
·       5 underwear
·       1 or 2 bra (s): prefer sports bra for your long treks.
·       A swimsuit and a towel
·       A sun hat: essential to protect your head from the sun
·       A good pair of sunglasses to keep your eyes safe from the sun and snow
·       A scarf to protect yourself from the cold, the wind, the dust or even the sun.
·       A winter hat if you're going at high altitudes
·       A good pair of hiking shoes: preferably choose high or semi-high waterproof Gore-Tex shoes. Make sure to try them before you leave.
·       A pair of flip flops to walk in the city or in your camp.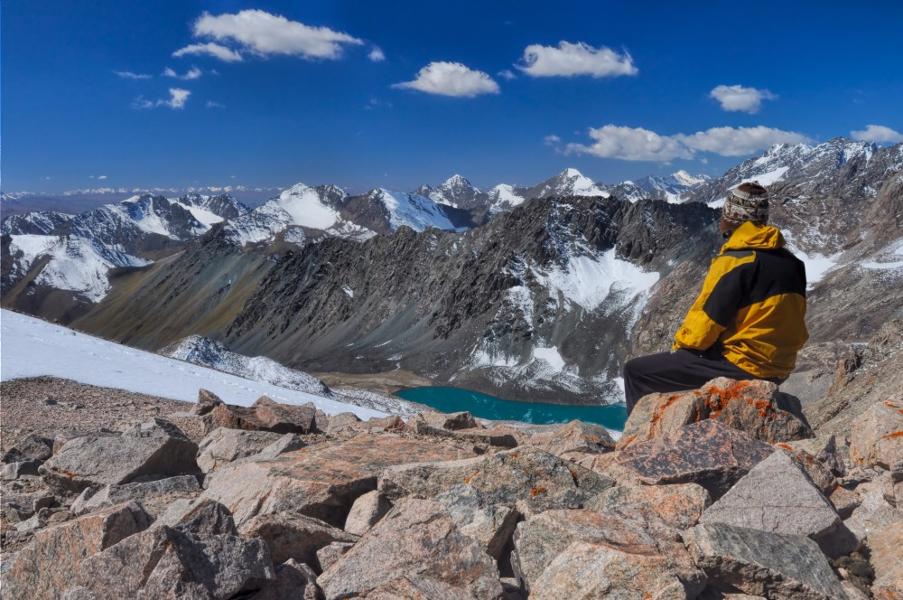 Trekking and camping equipment
If you book a trip via Kyrgyz What, we'll provide most of the equipment. But here's a list of what to take with you if you're planning to camp in the Kyrgyz mountains:
·       Trekking poles: trekking poles can really help relieve your knees, especially when you're carrying a big backpack. Take light carbon telescopic poles, which are ideal for traveling.
·       Sleeping bag: Make sure to choose it carefully. Prefer a feather sleeping bag suitable for temperatures below 0. If you're going on a high summit like the Uchitel Peak or Lenin Peak, or on a glacier, take a warmer sleeping bag. Remember to look at the weight of the bag and its degree of compression.
·     Tent: your tent must be waterproof, resist wind, quick to put up and put down take up a minimum of space when folded. Depending on your planned treks, take a three or four season tent.
·       Inflatable mattress: it's also important to choose a good, isolating mattress to keep you warm at nights.
·       A washing bag: in addition to being used for your small laundry, this waterproof bag keeps your personal and electronic goods dry in bad weather.
·       A flashlight or headlamp
·       A water bottle to avoid making too much waste and always have water with you. You should use purifying tablets
·       A microfiber towel: it does not take up too much space and dries quickly.
·       A Swiss army knife, which can always come in handy.
·       Multi-space container for your lunches, along with a sporknife
·       A lighter to start a fire or heat your stove
·       A small stove with its gas reserve or oil
·       A microfiber cloth to wipe your dishes
First aid kit and cosmetic bag
It's not always possible to take a shower when trekking, but there are a few products that will allow you to stay clean and healthy during your trip:
·       Dry shampoo and solid shampoo: dry shampoo is perfect when there is no water point nearby. Solid shampoo takes up less space in the toiletry bag and allows you to wash your hair easily. Make sure to take an organic shampoo so you don't pollute rivers or the soil.
·       Marseille-type soap to wash yourself and do your laundry
·       Toothpaste and toothbrush
·       A roll-on or solid deodorant.
·       A comb rather than a brush to save space space
·       Wipes and anti-bacterial gel to be able to wash your hands easily
·       Solar cream
·       Basic medication: paracetamol, anti-emetic, anti nausea, anti diarrhea.
·       Blister plasters.
·       A cream for sprained joints and muscle pains, band and atape.
·       Tablets to purify water.
·       Mosquito repellent.
·       Sterilized bandages
·       A menstrual cup
Electronic devices
Don't take too much with you, but there are some essentials:
·       A camera to capture the best moments of your trek. Take an extra battery and an SD card
·       An unlocked phone so you can use it with a local SIM card
·       An electronic book to read as much as you want
·       A powerbank to be able to charge  your phone during your trek
Other essential objects
·       A plastic pocket to keep your documents dry
·       A bag for your garbage
·       Some snacks like dried fruit or cereal bars: even if you travel with our agency, which will provide food throughout the trek, it's always nice to have your favorite snack with you!
·       A waterproof cover for your backpack.
Choosing your backpack
Choosing your backpack is a very important step of planning your trek. It should be adapted to your size and you should really try it on before ordering. It shouldn't be too big but enough to carry all your equipment. The size should depend on whether or not you have porters, if you're going to sleep in a yurt or under a tent, etc. A 50 L bag should be enough if you're planning to sleep in yurts and ready camps, but if you're carrying all your equipment it should be at least 70L. Make sure that the bag has a comfortable carrying system and that the weight is mostly on your hips, not on your shoulders.
Plan your trip depending on the season you're traveling
Of course you'll need to adapt the above list according to the month you choose to visit Kyrgyzstan. But be aware that at high altitudes, the weather changes very quickly and you can see four seasons in one day. Even in the summer you'll have to be ready for snow and winter conditions, which is why it's important to have several layers and waterproof clothes.