The capital of Kyrgyzstan is a small, human-sized city marked with the snowy Ala-Too Mountains in the background. It's very easy to go to the mountains from Bishkek for a picnic or a short hike. The city is surrounded with mountains that reach almost 5000m altitude and many picturesque valleys. Here's our selection of one-day trips from Bishkek: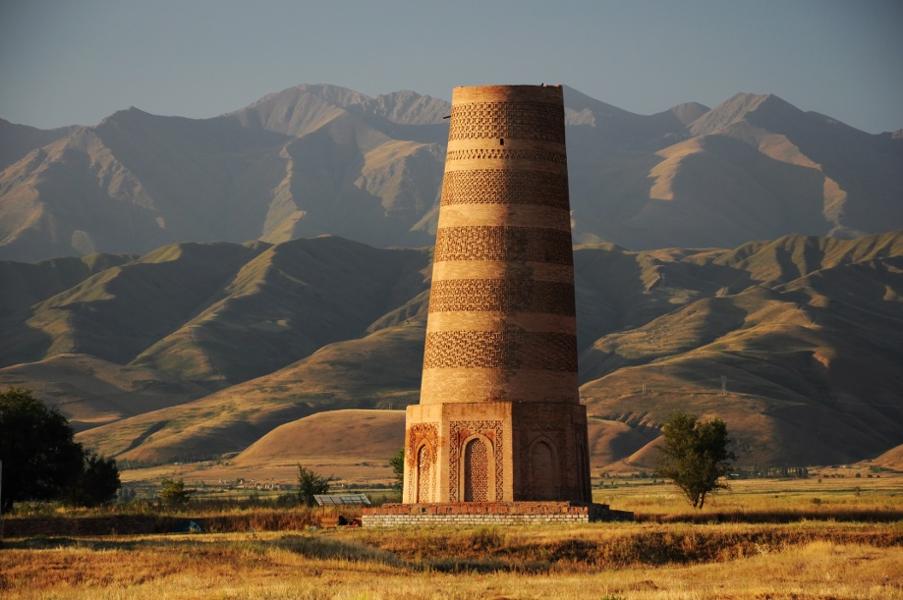 The historical site of Burana
Burana is a must-see during a trip in Kyrgyzstan. This ancient minaret, located near the city of Tokmok about one hour from Bishkek, is enlisted at the Unesco cultural heritage. A trip to the Burana Tower is ideal to travel through time and get to know the history of the Kyrgyz territory. This complex used to host a huge city, from which several ruins are left. It also used to be one a very important place for pilgrims. Only the Burana Tower still stands today, even though it lost almost half of its height following a terrible earthquake. You'll be able to climb up the Tower to its roof to enjoy a breathtaking view on the valley. The historical site also has a small museum which exhibits archeological findings from the region, as well as some petroglyphs and monuments to dead soldiers.
The Ala Archa National Park
Beloved playground for alpinists, the National Park of Ala Archa is only half-an-hour away from Bishkek. From the capital, you can admire its carved summits, the highest of which reach almost 5000m altitude. The park is open all year long, even though it's better to go there in the warm months to be able to fully and safely enjoy all the hikes. It's a favorite place for local and international alpinists, beginners and experts alike, due to its many glaciers, cliffs and technical summits.
There are several possibilities for a one-day hike in the park. The easiest hike follows the Ak Sai River. Another hike goes into the Adegyne Valley until a panorama from which you can see some of the highest peaks of the park, including the Corona. When you go through the forest, you'll be able to visit a memorial for alpinists. It's one of two cemeteries in the Soviet Union space. This one is called the North Star. You'll be able to read the stories of the deceased alpinists in a book dedicated to them, leave a word and ring the bell as a sign of respect.
In the Ak Sai Valley, a marked hike takes you up to a stunning waterfall. If you're a good sportsman, you can try to climb up to the Ratsek hut at 3300m altitude: going up and back down in one day is very challenging and long, as the last climb is very steep, but you'll be welcomed by a magnificent glacier and vertiginous mountains. This is the base camp for alpinists.
Issyk Ata and its hot sources
Issyk Ata is one of the favorite weekend get-aways of locals. It takes about one hour and a half to get there from Bishkek. Issyk Ata is a picturesque valley that offers a lot of different hiking possibilities. But people usually go there to enjoy its hot sources. The valley has one of the oldest sanitariums of Central Asia. You'll be able to take a bath in its open air pool, in the summer just like in the winter. Its thermal water is known for its many curative properties.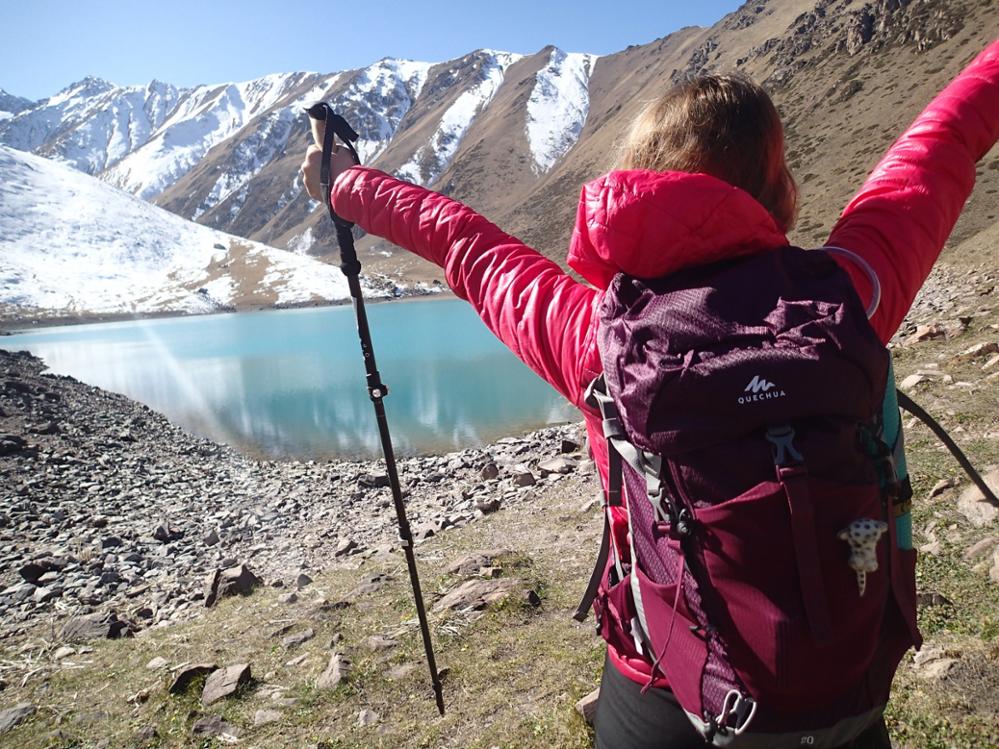 Kel Tor Lake
In the Kegeti Valley, a little less than two hours away from Bishkek, the beautiful lake of Kel Tor attracts a lot of tourists. Located at 2700m altitude, the lake is small but stunning with its green water. The hike up to Kel Tor is quite long but is really worth it. Avoid going there on the weekends in summer if possible, because it's become a very popular destination among locals ! In the other Kegeti valley, you can visit two waterfalls, one of which is even accessible by car.
Chon Kemin National Park
The Chon Kemin National Park, located about two hours and a half away from Bishkek, is a real haven of peace and an ideal place to relax far from the crowds. The Park has a few small traditional villages in it, and is surrounded by large forests and mountains. The valley is cut in two by a large river, on which you can try rafting. Here, locals mostly live off agriculture and breeding. You'll be able to enjoy the simplicity of life here, sport animals in the forests, and go for a hike or a horse trek in the woods.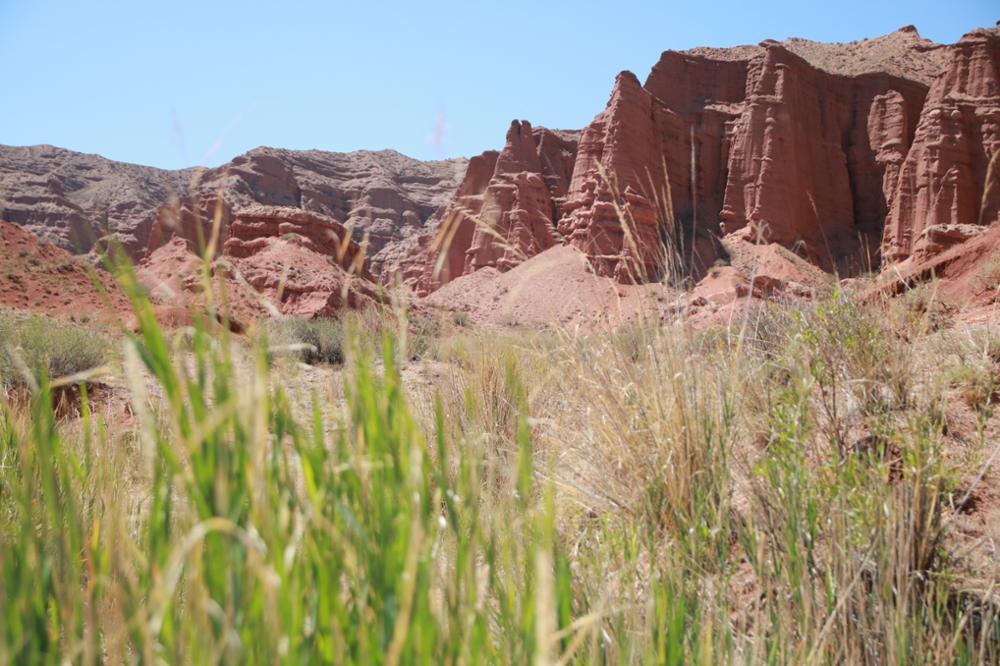 The Konorchek Canyons
On the road between Bishkek and the Issyk Kul Lake, the Boom Gorge is a splendid place to stop. This red gorge took its name from the landslides and falling rocks, "boom" meaning the evil spirit. The road is now secured. The landscape is breathtaking. You'll be able to go for a short hike in the famous Konorchek Canyons, also called the "Golden Castle". It has large rock formations declined in red, yellow and orange tones. It takes about one hour to reach them from the parking.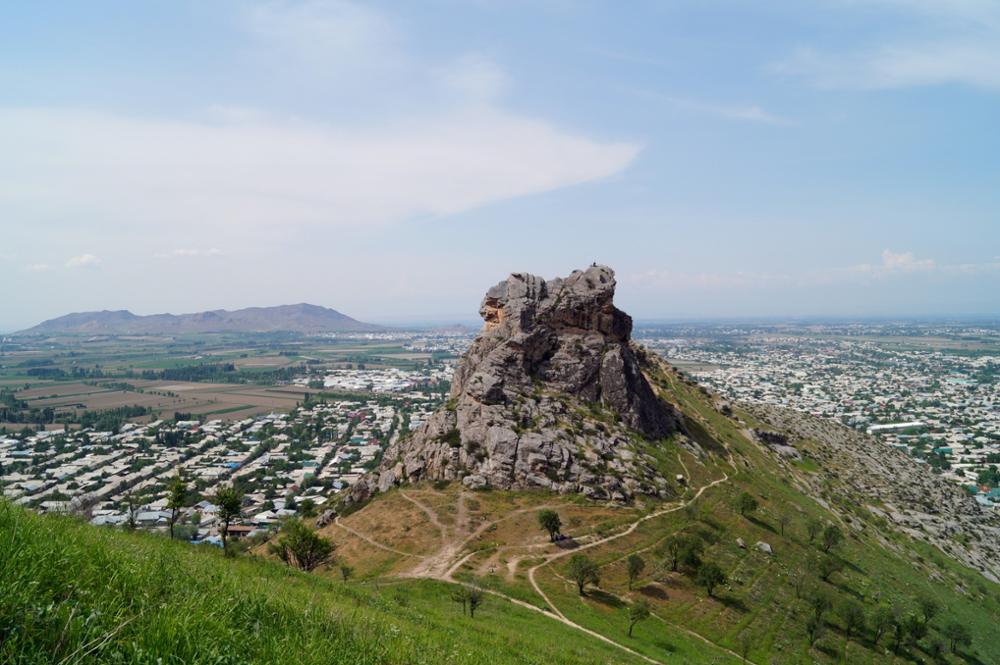 Osh
This may be surprising but the city of Osh, the Southern capital of Kyrgyzstan, is accessible for a one day trip from Bishkek. Flights from Bishkek to Osh take less than an hour, which leaves you plenty of time to visit the center of Osh, its bazar, and the Unesco site of the Sulamain Too Mountain. This is a center for pilgrims from the entire world. You'll be able to see many caves and sacred places, on top of exploring the historical museum.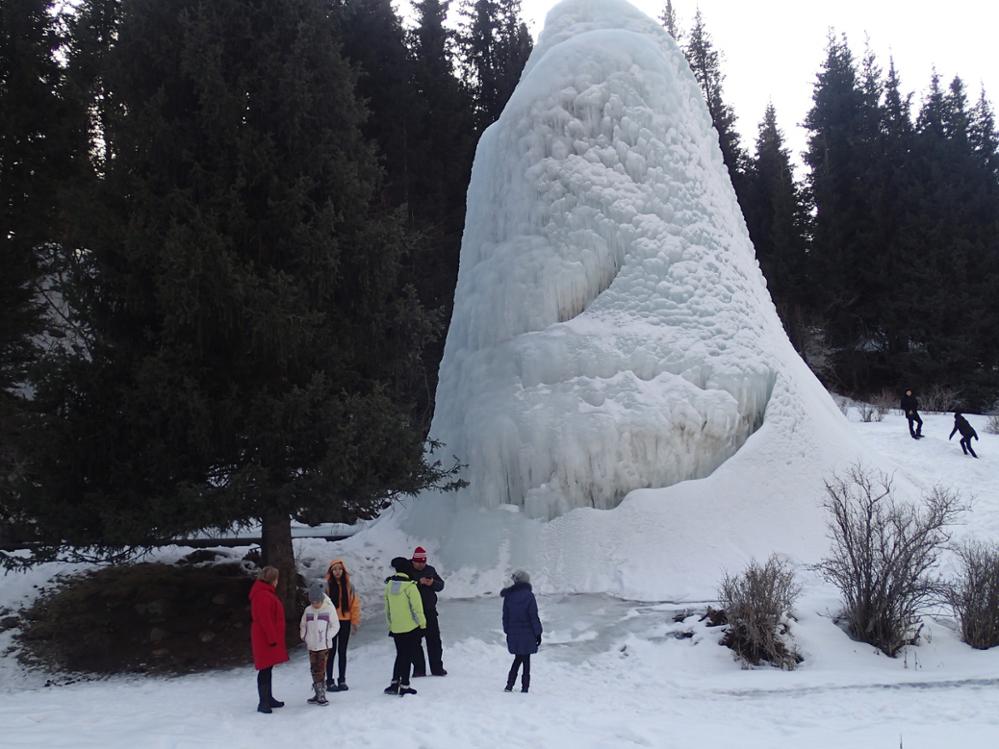 Ak Tuz Valley
This Valley is little known but it has stunning alpine landscape. Located around two hours from Bishkek, Ak Tuz is a great place to go for a one day hike. The village is almost entirely deserted nowadays, but the surroundings are beautiful. You can explore the pine forest and follow the river to admire a huge fountain emerging from the ground. In winter, it freezes entirely forming a pyramid of ice like in Frozen… The Ak Tuz Valley also has a small ski station that is very calm and has great snow.  
Belogorka Gorge
Belogorka, which means « the white mountain » is probably the prettiest valley near Bishkek. Located at around two hours from the capital, it is always very calm. This may be because the road that goes there isn't in a great condition. But the valley has very surprising and unique mountain landscapes, with carved and dark summits in the middle of infinite forests. This wild place attracts experienced alpinists. The Belogorka Valley is famous for its splendid waterfall 60m high.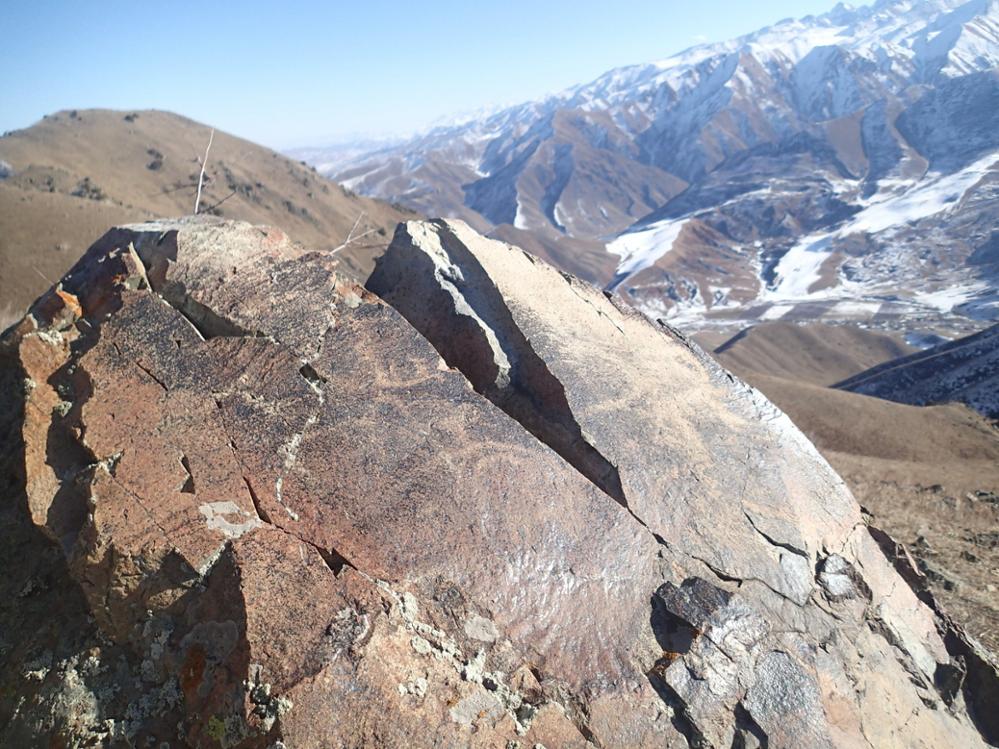 Chunkurchak Valley
Chunkurchak is located very close to Bishkek, and it takes only half an hour to get there. You'll get to see a few shepherds and their herds of sheep. The best hike in Chunkurchak Valley takes you up a panorama on Bishkek and its surroundings. Few people know this, but just under the panorama are ancient petroglyphs carved into rocks, so take the time to look for them! In winter, Chunkurchak hosts a family ski resort.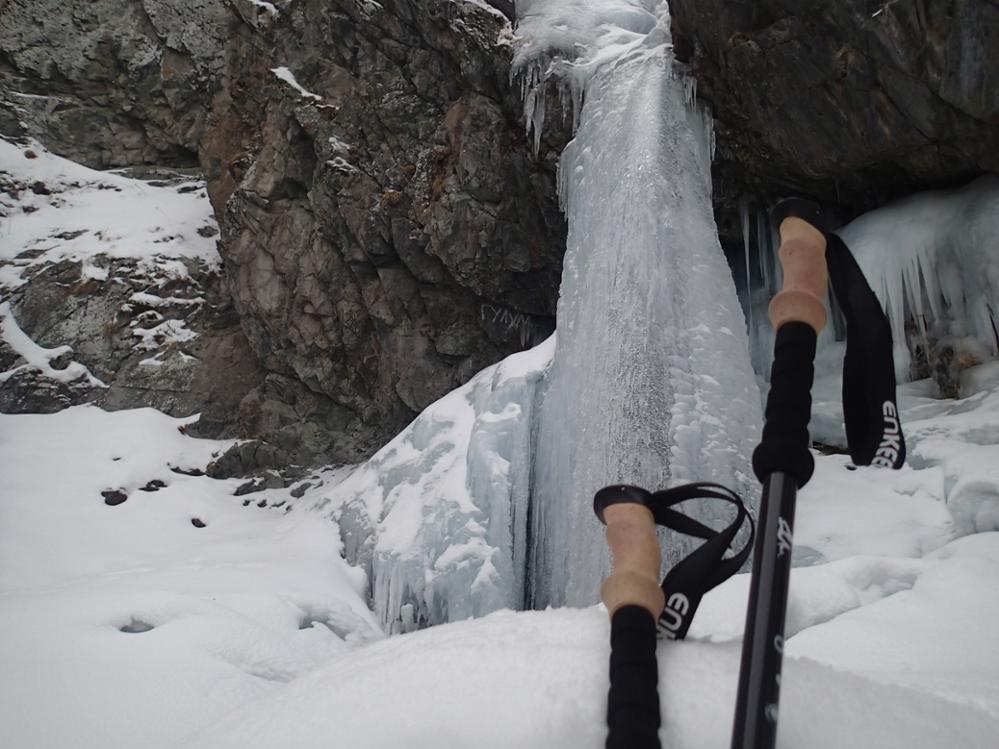 Alamedin Valley
Another valley close to Bishkek is the Alamedin Valley. It used to welcome one of the most important sanitariums of the region. The pools have been closed for restoration work for a few years now, but this soviet center is still open for other services. Alamedin is a great place to go for a picnic and a short one-day hike. You can go, with little efforts, to a nice waterfall. It's an ideal hike if you're with your family or just want to warm up. It's also one of the only hikes doable in winter. And winter is probably the best time to go, because the waterfall freezes and the stalactites that surround it turn this into a real winter wonderland.