It's not always easy to find information about how to get around in Kyrgyzstan, especially if you don't speak the local languages. But it's an essential part of preparing your tip in Kyrgyzstan, so here are a few tips to help you plan your vacation. 
Bishkek: by bus, taxi or on foot
To explore Kyrgyzstan's capital Bishkek, you'll have several options. This small city near the majestic Ala-Too Mountains can easily be visited on foot. Most of the interesting sites are in the center of the city. Count a maximum of 5 kilometers to go from one side to the other of Bishkek's center. You can enjoy this walk to admire the beautiful snow-capped mountains in the background, try a local samsa at a street corner, or take a look inside one of the many souvenir shops.
Public transportation in Bishkek is well developed, although not very comfortable. You'll still be able to get around easily thanks to the buses, trolleys or marshrutkas. They all have fixed routes and come in regularly. If you prefer taking a bus or trolley, you might have to wait ten or fifteen minutes before it comes. Marshrutkas come more regularly.
If you're taking a bus or a trolley, go inside through the back doors. You'll have to pay 8 soms to the driver when getting out of the bus. It's the opposite with marshrutkas: you pay when getting in, 10 soms during the day and 12 soms after 9 p.m. In public transports, give your seat to elderly people, children and pregnant women. Usually, men get up to let any woman sit, regardless of her age.
An app to get around
These public transports are very useful but often overcrowded, especially during rush hours. Sometimes, it's even faster to walk than to take a bus during traffic jams.
We recommend downloading the 2gis app on your smartphone to get around in town. It will tell you which bus or marshrutka to take to go to your destination, and show you the exact address. This, by the way, is harder than you might think: street names keep changing, which is quite confusing. 2gis has the most accurate map of Bishkek.  
Don't hesitate to order a taxi to get around in Bishkek. A trip in the city will cost between 70 and 180 soms, depending on the distance. It's better to order one than to take a random taxi in the street. In this case, you'll have to negotiate the price with the driver. There are many taxi companies that take orders, including a few big groups that even have apps, like Yandex or Namba. You can ask your hotel to help.
Traveling in the regions: airplane, bus, taxi, or car rental
To get out of Bishkek and discover the beautiful landscapes of Kyrgyzstan, you can travel by plane, marshrutka or taxi. But for better security, flexibility and to reach isolated places, the best option is to rent a car with driver.
Taking an airplane to the south
From Bishkek, you can travel to the Southern cities of Osh, Jalalabad and Batken by plane. The ride takes around one hour. Take a seat near the window to enjoy a breath-taking view on the high mountains of Kyrgyzstan. The flight is quite impressive because, although short, it takes you up high to fly over the summits.
Two local companies fly to the South of Kyrgyzstan: Air Manas and Tez Jet. You can buy your tickets in a travel agency in the cities. A ticket costs between 20 and 50 dollars, depending on the season. These plane companies aren't very well ranked security-wise, but taking a flight will allow you to save a lot of time during your trip. For example, riding a car to Osh from Bishkek takes around 12 hours.
Public transport
To reach another region of Kyrgyzstan, you can take public transport. Marshrutkas leave from bus stations for the main cities of Kyrgyzstan: Cholpon Ata, Karakol, Kochkor, Naryn, Talas, Osh... The departure bus station depends on which direction you are going to.
Buses leave regularly and as soon as they are full (around 15 passengers), so you'll have to wait at the bus station. You can buy your ticket at the cash register at the bus station. In smaller cities, you'll pay the driver directly. Marshrutkas are the cheapest way to travel around Kyrgyzstan. For example, a trip from Bishkek to Karakol costs around 350 soms.
If you want a more comfortable and faster option, you can take a collective taxi. These also leave from the bus stops. They're more expansive, but leave quickly. In any case, the driver will stop by a café for a break if the trip is long.
Keep in mind that roads in Kyrgyzstan are dangerous, and drivers usually drive fast, passing over cars where it is forbidden. Don't hesitate to ask your driver to slow down.
Public transportation will allow you to go from one city to the other, but it takes quite a lot of time. If buses have the advantage of giving you a local feel of traveling around Kyrgyzstan, they won't allow you to stop for photo pauses, or to reach isolated sites likes valleys or lakes.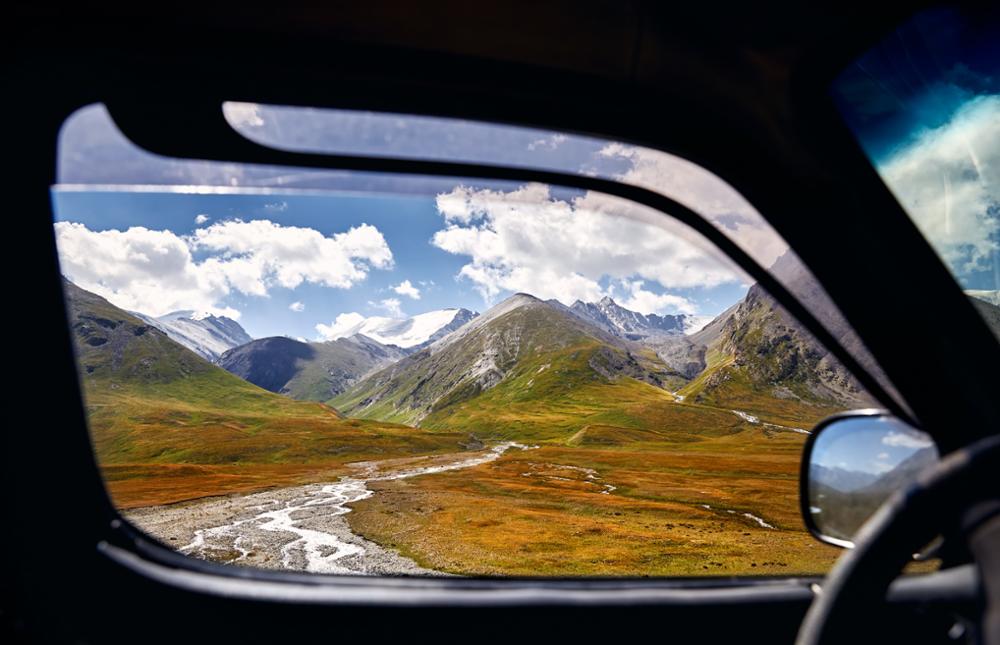 Renting a car, with or without a driver
Renting a car, with or without a driver, makes traveling in Kyrgyzstan much easier, faster, and gives you a lot of flexibility. You'll be able to go anywhere in the country, including in the top must-see natural sights, stop when you feel like it, take photos and make sure not to skip anything.
Several agencies in Bishkek allow you to rent cars. If you choose to go without a driver, make sure you or someone from your group knows how to fix cars. The mountain roads are usually in bad conditions and with no phone coverage, so you'll have to get out of problems yourself. Specifically ask for a wheel on the left of the car, because a lot of cars come with wheels at the right and it might be difficult to get used to it.
For better security, the best option is of course to hire an experienced driver. He/She will be able to guide you throughout the country, knowing all the roads, which usually don't show up on maps. You'll be able to relax while on the road, after a day's hike for example, and enjoy the spectacular landscapes. This is what we offer for all of our tours in Kyrgyzstan, to guarantee the best experience during your stay.
Hitchiking in Kyrgyzstan
What about hitchiking in Kyrgyzstan ? It's possible, because locals are very welcoming and love giving a hand to foreigners. Don't forget that traveling by hitchhike is, like in any country, dangerous.
You might have to wait long hours in the isolated parts of the country, and to go to destinations like Son Kul or Tash Rabat, you'll have to take a taxi.
Actually, a lot of locals stop cars on the roads, but they always pay the driver. If you decide to hitchhike, don't forget that Kyrgyzstan is a poor country, with a very low mean salary. Try to offer some money, at least for the fuel, to the driver who accepted to take you on a ride.