The yurt is probably one of Kyrgyzstan's most known symbols, a little like cheese and wine for France. For travelers, sleeping under a yurt is a unique experience, but for the Kyrgyz, it's something they've been doing for generations.
Although the Kyrgyz people are now only semi-nomads, they continue using yurts for celebrations and in the summer, when they go to high mountain pastures with their herds. During your trip in Kyrgyzstan, you'll come across many yurts and be able to watch how shepherds take care of their yaks, sheep, or horses amidst beautiful mountain landscapes.
The Kyrgyz yurt is also used during important events, for example weddings, births or funerals. It's part of the culture and the tradition even for the most modern families. And its roof, the Tunduk, appears on the national flag with pride.
Discovering authentic Kyrgyz yurts
You'll be able to discover traditional yurt fabrication in the small village of Kyzyl Tuu, on the south shore of the Issyk Kul Lake. This village which counts around 1800 inhabitants is specialized in yurt making, an art that is passed from generation to generation. You'll be able to visit a family to get to know how yurts are built and why they are so dear to the Kyrgyz people.
Kyrgyz yurts are made of natural elements only, mostly wood, felt and leather, with no nails.
At the Son Kul Lake, you'll be able to see Kyrgyz nomads and their families sleeping in yurts and understand the daily life of the shepherds. Several yurt camps accommodate tourists on the lake shores and near Issyk Kul as well. These are more or less comfortable, some offering to sleep like a nomad on the floor and others offering real beds. Regardless, it's a really unique experience.
During your trip, you might have the chance to stay with a family. These don't have large yurt camps, but just one yurt for themselves, one for the kitchen and one for their guests, if not less. It's the best way to get to know the nomadic way of life of the Kyrgyz and live an authentic experience.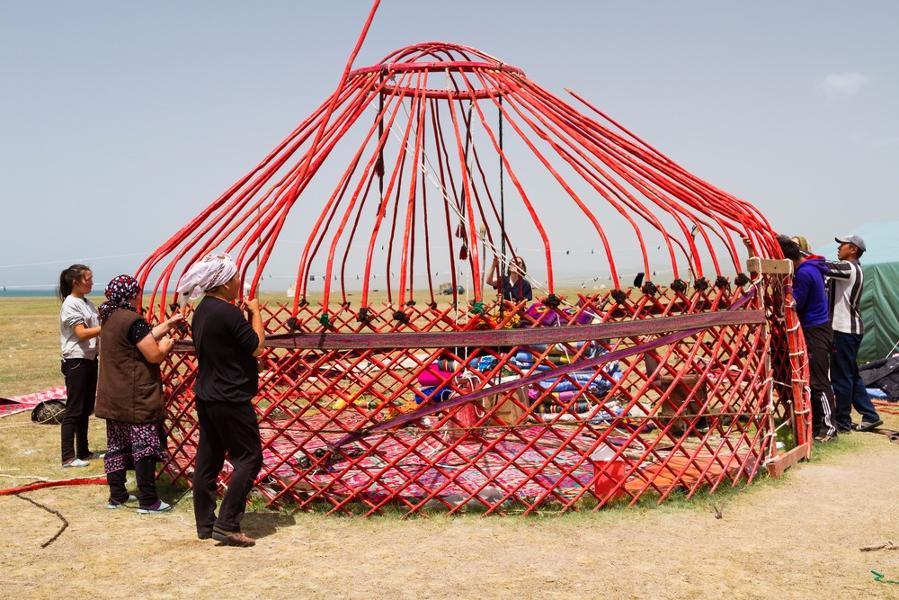 What's the difference with the Mongolian yurt?
Mongolia is also a nomadic country that has the yurt as its symbol and tradition. If you're going to Mongolia you'll see yurts just about anywhere, including in the capital next to large soviet buildings.
But Kyrgyz and Mongolian yurts are quite different. Kyrgyzstan is a country where the winters are very cold. In the mountains, snow is very frequent, which is why the Kyrgyz yurts have higher roofs. Also, Kyrgyz yurts are lighter and easier to move.
Mongolian yurts are heavier to withstand the violent winds and storms of the steppes. The roof is flatter and the yurt is lower. It's maintained with a central pole, which Kyrgyz yurts don't have.