If you're dreaming of visiting Kyrgyzstan but you only have time to come in winter, no worries! You can visit Kyrgyzstan out of the touristic season and enjoy a unique experience in a winter fairy tale.
Of course, if you come to Kyrgyzstan during the winter, you won't be able to access every site. Most treks and high altitude pastures are inaccessible. A lot of roads are closed off due to important snow falls, ice or avalanches. Nomads themselves go down to their villages to spend the cold months.
But winter is an opportunity to see a different face of Kyrgyzstan, enjoy the calm, travel off the beaten paths and meet the local population. You'll still have many exciting opportunities during your trip, varying from a tour around the Issyk Kul Lake to activities high in adrenaline, like ski touring or ice climbing.
Travel around Issyk Kul
The Issyk Kul Lake is the second largest alpine lake in the world. It covers a large part of eastern Kyrgyzstan and is definitely a must-see place during any trip in the Kyrgyz Republic. The lake is charming and mysterious, with a depth of around 700m, a size that varies with seismic movements and ancient cities buried under its water.
Surrounded by the Tian Shan or Celestial Mountains range and their high summits of around 5000 to 6000 m altitude, the lake is especially stunning in wintertime. Its deep blue water never freezes thanks to the salt it contains; that's in fact where the name of the lake comes from, "issyk kul" translating from Kyrgyz language as the "warm lake". This scenery comes as a nice contrast with the snowy mountains in the background.
It's completely possible to travel around Issyk Kul Lake in wintertime. The road is in a good condition, and thanks to the wind and the climate of the region, there is rarely snow on the south side of the lake. It's cooler than in Bishkek during the summer and warmer in the winter.
Traveling around Issyk Kul is a great opportunity to discover the magnificent landscapes of Kyrgyzstan, all the while getting to know the local culture. On the north side of the lake, stop by Cholpon Ata to walk on the deserted beaches and visit the open air petroglyph museum. A little further down the coast, you'll be able to go for short hikes in the Grigorevky and Semenovka valleys. Don't miss out on the possibility to bathe in open air hot mineral sources near these villages: with the freezing temperatures and the snow around you, taking a dip in a pool naturally heated at 40°C is magical!
You can then stop in the city of Karakol and try different activities, including skiing or snowboarding. Karakol has the largest ski resort in the country and one of the best in the region. Take the time to visit the historical museums and sights of the city.
The south shore of Issyk Kul is very pleasant in the winter; it's usually devoid of snow, although the snow-capped mountains keep the charm of winter at every glance. You'll be able to go for short hikes in the picturesque valleys of Djety Oguz and Barskoon, or explore the Skazka canyons. Be careful at all times, since some parts of your walk may be slippery. Adventure yourself into villages to learn how to build a yurt, see a demonstration of eagle hunting or visit a traditional felt fabric. It's the ideal moment to learn about Kyrgyz culture.
Even if the nights are very cold in wintertime, some camps offer modern, heated yurts so you can fully enjoy your Kyrgyz experience.  
Discover local culture
One of the greatest advantages of traveling to Kyrgyzstan during the winter is that you'll be there among very little other tourists, and locals will be happy to welcome you warmly, as according to the local traditions. In winter, you can do a lot of cultural activities, for example yurt building, eagle hunting, felt fabrication, museums and historical sites, concert of traditional music…
It's also a unique opportunity to see the local end of year holidays in Kyrgyzstan. Here, New Year's is a lot like Christmas: it's usually celebrated with the family and at midnight, we open gifts. Restaurants offer parties and shows every evening during the month of December to put you in the mood.
At the end of March, don't miss out on the traditional celebration of Nowruz, the local New Year's which marks the end of winter. For this occasion, you'll be able to discover many local Central Asian traditions and see nomadic and horse games.
Relax in Chon Kemin
The Chon Kemin Valley is located between Bishkek and the Issyk Kul Lake. It's very calm year round and is a great place to relax and enjoy life in the midst of nature. Charming at every season, the valley becomes a real winter fairy tale with its snowy forests and mountains. You'll be able to spend the night in a wooden house in the forest and enjoy a moment of tranquility. You can also go for a short horse trek in the forests, or even for a swim in a recently built pool in one of the villages. Go to Ak Tuz to see a frozen natural fountain and take great photos for Instagram.
Enjoy the wilderness
Kyrgyz nature is very well preserved, but it's in wintertime that you'll be able to completely enjoy its wilderness (while staying careful at all times). You'll be able to see many animals that hide during the summer, and come across snow leopard or bear footprints. Don't go out too far into nature during the winter though.
Try out winter sports
Kyrgyzstan is an ideal destination for winter sports. More than 90% of the territory is covered by high mountains, and with its long snowy winters, this makes it the place to go to for winter sports. You'll be able to have fun, discover a new culture and enjoy prices much more affordable than in your usual resorts.
Ski resorts
Kyrgyzstan has several ski resorts. The biggest and most famous is the Karakol ski base, over 3000 m altitude. Although the resorts are small and don't have the fastest lifts, they offer ideal skiing conditions for a very low price (around 1000 soms per day, and between 500 and 1500 soms for rental). The Karakol ski resort is known around the region for is superb snow, its long season and its breath-taking view on the Issyk Kul Lake.
You'll also find a few resorts near Bishkek, that you can access for a one-day trip (like ZIL or Chunkurchak). You can also sign up for a class if you're getting on skis for the first time.
Free ride
If you're a fan of free ride, then you really shouldn't hesitate before booking your tickets for a winter trip in Kyrgyzstan. You'll be able to explore the backcountry on your skis, again at an affordable price and in the best conditions.
The Jyrgalan and Suusamyr valleys are well known for their excellent free ride opportunities, even if you can put on your skis or snowboard just about anywhere in the country's mountains. You'll be able to get up hills on a cat machine, by helicopter, or, our favorite, on a horse. Horses will bring you anywhere you want for downhill skiing, and it's the perfect opportunity to live winter like a local.
Crosscountry skiing
If you like crosscountry skiing, go explore Kyrgyzstan with your skis. Ski touring will allow you to see a lot of the country that is otherwise not accessible, and meet locals in their villages. It's a very original way of traveling in Kyrgyzstan.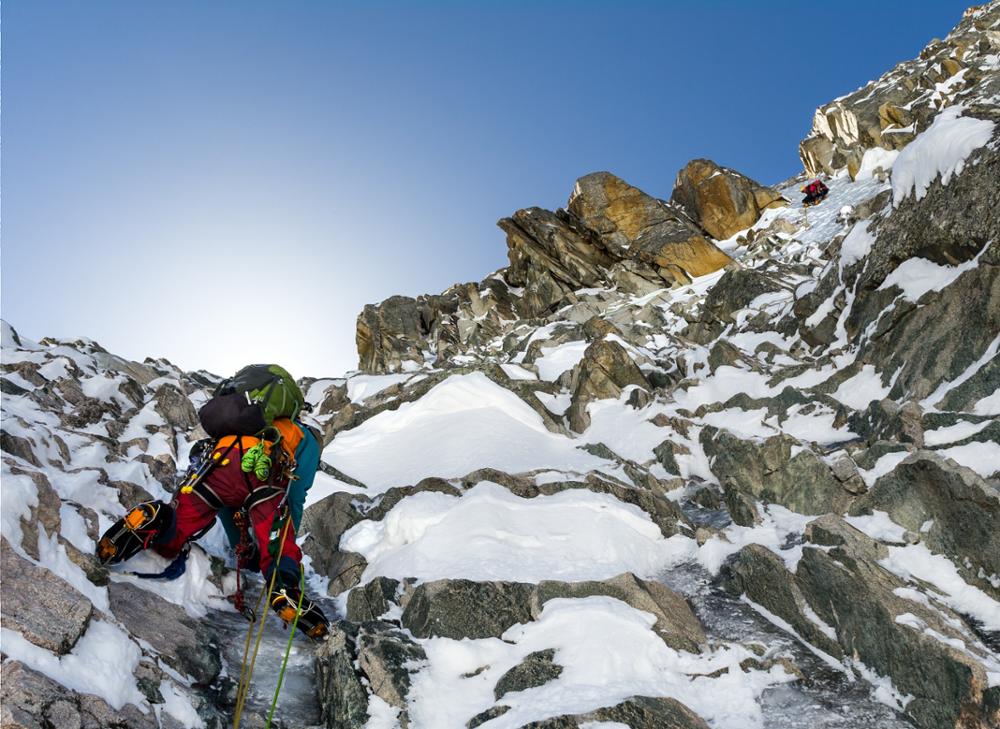 Ice climbing
Winter in Kyrgyzstan offers a lot of exciting opportunities for alpinists and mountain lovers. Summits are hard to access, but you'll be able to try ice climbing on the many frozen waterfalls or glaciers.
Other winter sports
The winter is a great time to try out other unusual activities, like shoe snowing or driving a quad on ice.
Whatever your choice is, make sure to think about safety first. On the roads, it's better to travel with a good mountain car equipped for winter and hire a driver who knows how to drive on snow and on ice.